Thanet Council hosts flood defence meetings in Margate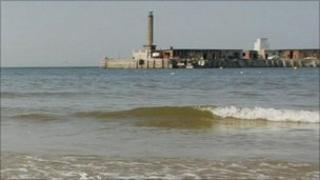 Margate residents can meet experts and learn more about a project to improve flood defences in the Kent town.
The two-year £6m project, funded by the Environment Agency, will include strengthening the Harbour Arm and building new walls and floodgates.
It will also include building steps from the beach to the promenade to stop waves breaking over the sea wall.
Thanet District Council is hosting meetings at the Margate Media Centre on 16 and 21 June.
It estimates the potential cost of damage caused by flooding could be about £65m, with 480 properties in the Old Town area at risk.