Highways Agency 'sorry' for M20 delays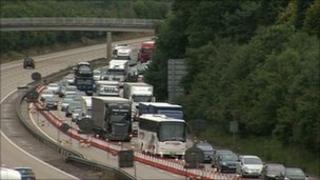 The Highways Agency has apologised to drivers in Kent who suffered delays of up to four hours after the closure of part of the M20 over the weekend.
The London-bound carriageway was shut between junctions 8 and 7, near Maidstone, from Friday evening until Monday morning for planned roadworks.
The work is part of a two-week project to refurbish the Chrismill Bridge.
Jon Griffiths from the Highways Agency said: "We're very sorry for the delays we've caused."
'Not enough signs'
He added: "Closing motorways is something we do very rarely, particularly for planned works, we don't take these decision lightly and wherever possible we get as much information out there as we can in advance.
"In this case we'll have to go back and see what more we could have done."
Scores of drivers contacted BBC Radio Kent on Saturday and Sunday complaining of having to wait up to four hours to leave the M20 to go on to diversion routes which were also severely congested.
Motorists also said there were not enough signs warning about the works.
The middle and outside lanes of the M20 were reopened at about 0500 BST but the hard shoulder and inside lane of the London-bound will remain shut.
Work to refurbish the bridge is expected to be completed on Friday.