Dover Port plans holding lorry park to ease congestion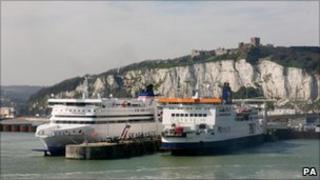 A £6.5m traffic improvement plan which could help to ease congestion caused by Operation Stack on the M20 in Kent has been unveiled for the Port of Dover.
The redevelopment would include a holding area in the Eastern Docks for more than 200 outbound lorries.
Dover Harbour Board said the project, which would include reorganising current dock buildings, would be completed in 2014.
It said peak-time journeys through the port would become quicker and easier.
The changes should also "reduce the frequency and extent of traffic queues on the roads leading to the port - easing congestion for the local Dover community".
Under Operation Stack lorries have to queue on the M20 during cross-Channel delays.
'Essential work'
The new assembly area will be able to hold 220 additional lorries - about 2.7 miles of traffic.
Mike Krayenbrink, director of port development, said the Traffic Management Improvement Project (TMI) was just one part of the five-year plan to upgrade the Eastern Docks.
"It will enable us to manage increasing traffic volumes whilst diminishing the effect on the local road system.
"These works are essential in advance of the second ferry terminal in the Western Docks.
"We're confident these improvements will help us to continue to provide first class facilities for all our customers in the coming years and help reduce congestion on the approach roads to the port."