Body found in River Medway after man falls in water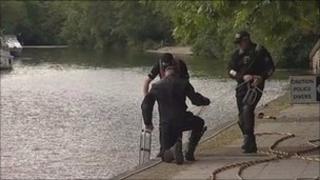 A body has been found after a 42-year-old man fell into the River Medway at Maidstone, Kent Police have said.
The alert was raised at about 1240 BST and fire, police and ambulance teams were called to the scene near Sandling Road, but the man could not be found.
Police divers carried out searches at the scene and later found a body.
A police spokeswoman said the body was thought to be that of the man who fell in the river but she said it had not been identified.
The Kent Air Ambulance also went to the scene to provide support after the alert was raised and the Environment Agency was also called in to help with the search.
Third river death
Witness Peter Beirne, who saw the man in the water, said: "A lady jumped into the river and managed to get across to him and got hold of him, I believe.
"She was crying for help. Somebody threw in a buoy. That landed unfortunately short of them.
"After a considerable time, she managed to reach the shoreline. And unfortunately, she was alone."
Martin Adams, from Kent Fire and Rescue Service, said: "Although this river today looks calm on the surface, underneath there are very strong currents and eddies and also lots of materials that can't be seen which are easy to get caught up on.
"They [rivers] are incredibly dangerous places and people need to be cautious when either walking or playing near a river."
Two boys have died on the River Medway in the past two months.
Alex Chappell, 12, died after getting into difficulties while playing on a rope swing over the water at a park in Tovil, near Maidstone on 30 May.
Cameron Sandell, 14, died in a canoeing accident at Teston Lock, near Maidstone, on 17 April.
After the deaths, emergency services, council chiefs and leisure centre providers launched a campaign to promote water safety.