Study into shuttle service for France commuters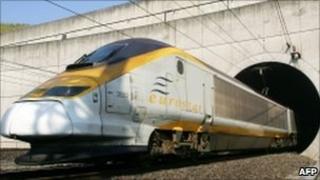 A feasibility study is being carried out to see how many people from Kent would work in France if there was a new commuter shuttle service through the Channel Tunnel.
A group of French businessmen have secured EU funding for the study.
They argue it would benefit both sides of the Channel because people could live on one side and work on the other.
The new service could be up and running by next year.
Kent Labour MEP Peter Skinner said: "Anything that brings an [influx] of tourists or others into the south east must be good.
"Most people that come into Kent before they go to London spend at least one night there, so it's good for tourism, it's good for trade and it's good for our prosperity."
UKIP leader and MEP Nigel Farage said: "If somebody's got great skills and they can afford to pay the daily return ticket to take a highly paid job in Ashford, I've got no great objection to that. But what we don't need are EU-funded reports telling us we should do it.
"People would have to be taking very highly paid jobs in Ashford or Canterbury or elsewhere to make it work. Just look how much it costs to travel before 9.30am on Kent's high-speed trains already."