Manston Airport calls for 'congestion charge'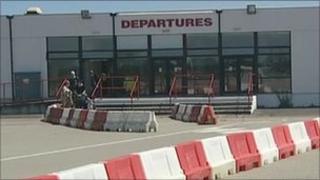 London's busiest airports should pay a congestion charge, according to bosses at Manston Airport, in Kent.
The airport has joined calls for it to replace the current Air Passenger Duty (APD) arguing that it has a devastating impact on regional economies.
It says the new charge will have a positive impact and stimulate regional airports.
The proposal is part of Manston's submission to the government's consultation on APD.
'Economic incentives'
It wants APD levels set at a lower level for uncongested regional airports with significant available capacity to help alleviate congestion and improve the passenger experience at the main London airports.
Manston said other regional airports in the UK had already called for APD to be replaced.
Charles Buchanan, chief executive of Manston, said: "We believe the government should follow other European countries and scrap APD as the tax is making the UK less attractive to international visitors and also holding back the growth of regional airports.
"The government should provide economic incentives to encourage airlines to move out of the congested London airports, and importantly to make better use of those where capacity is available.
"If passengers and airlines want to fly out of airports which are congested then they should pay a premium for doing so, just as motorists pay a premium to drive in central London."