Kent County Council 'still failing over childcare'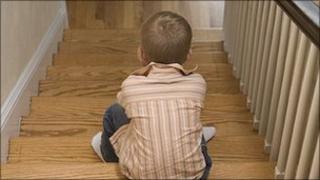 Kent County Council is still failing to make necessary improvements to children's social care as called for by Ofsted, a report has found.
The report by the independent Improvement Board said "a great deal remains to be done".
The board was set up last year after Ofsted found child protection services to be "inadequate".
Councillor Jenny Whittle said the authority had made significant progress since the report.
'Highly stressed'
In the report, chairwoman Liz Railton said: "There is evidence that the council is taking action to improve the areas of weakness."
However, the report said the referral rates, the numbers of children subject to child protection plans and "looked after" children had continued to rise.
The report also highlighted the failure to retain experienced staff.
Action was being taken by the council to tackle weaknesses but the service remained "highly stressed", the report said.
The report was previously confidential, but Ms Railton agreed to a request by the county council leader Paul Carter to make it public "in the interest of transparency and openness".
Ms Whittle, cabinet member for specialist children's services said: "Liz Railton's report is very encouraging and shows what we have achieved so far.
"I am mindful that the report was issued in early May and we have made significant progress since then.
"We cannot be complacent and know we need to focus on our computer recording system, the recruitment and retention of experienced staff and strengthening partnerships with other agencies."
Critical Ofsted report
Last November, the authority apologised after the critical Ofsted report which followed an unannounced inspection in August.
Ofsted found cause for concern about most services intended to protect children.
In the worst cases, children were left unprotected and were at risk of significant harm, the report said.
At the time Mr Carter said a recovery plan would be implemented and shortcomings would be put right.