More Kent parents walk their children to school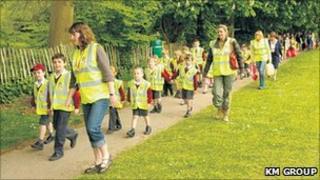 The number of Kent parents leaving the car at home and walking their children to school has increased.
According to walk to school campaigners there have been 10,000 fewer school run car journeys so far this academic year.
KM Walk to School chief executive Simon Dolby said more parents were questioning whether the journey was necessary due to high fuel prices.
About 30,000 children walk to school each week under the campaign which runs walking buses and other schemes.
Last year campaign data showed that about 200,000 school run journeys were removed from Kent's roads and this has already shown an increase of 10,000, with still a few weeks left of school term.
Mr Dolby said: "It has an impact environmentally and it also has an impact on the children's health and wellbeing and of the parents as well.
"It's doing its bit to help and support parents and schools to provide an alternative to that very costly school run and make it that little bit more easy and accessible to do the right thing - walk to school."
Reducing traffic
One in three primary schools across Kent and Medway operate the KM Walk to School schemes, which include walking buses, Walk on Wednesday and Walking Bug.
Walking buses are when a group of parents take it in turns to escort a column of children along a set route wearing high visibility tabards. Children are also taught road safety skills.
Nicky Butler, parent and walking bus co-ordinator, said: "I want to encourage my children to walk in to school as much as possible. I think it's good to reduce the traffic around the school area. It's healthy for us and it's a good community initiative."
A RAC survey on how drivers habits are changing, shows that nationally about a third of people are cutting down the number of short car journeys they make because of the rising cost of fuel.