Glastonbury set for Margate band Two Wounded Birds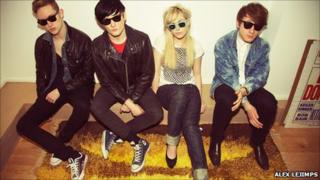 Margate band Two Wounded Birds is playing at Glastonbury for the first time.
The band is on the BBC Introducing stage after being recommended by BBC Kent Introducing.
Before the band members braved the mud of Somerset they answered some questions about their beginnings, their music and their hopes for the future.
Who are Two Wounded Birds and how and where did you meet?
Two Wounded Birds are me (Johnny) Ally, Tom and James. The band started as just me and Ally at first then we picked up Tom and James, and we all live within about 10 minutes of each other, which is great.
Describe you music and your influences.
We are a rock and roll band. We are inspired by our interpretation of a romantic bygone era, and that includes bands such as The Beach Boys, The Doors and girl groups like The Cookies and The Ronettes.
Have you been to Glastonbury before and how do you feel about playing there?
None of us have ever been to Glasto, so we are all really excited. Its a nice feeling to be part of it and experience it for the first time. The shows will be great and it will be great to go back in 2013.
How useful has BBC Kent Introducing been to you and new music in Kent?
It's a great service to Kent musicians, having a local show every week that plays the best new music locally. It's nice to find other people near you or further afield that you really enjoy and it plays a big part in helping bands break out and get coverage on a national level.
It's been great for us, having BBC Kent forward the track to Radio 1, it gave us airplay and now we're off to Glastonbury. Essential.
You're from Margate, what do you think of the Turner Contemporary centre? Can you see changes in Margate in recent times?
I think the centre is useful, anything that's creative is a plus to any town. The town feels exciting because there are lots of new things happening, new bands, new boutiques, new ideas.
What are your plans for this year?
We are going to do the festivals we have lined up this summer and we are also sticking a new single out really soon.
It's called It's Not Up To You and will be released on Moshi Moshi Records. We will be touring around UK and hopefully Europe towards the end of the year, with an album pencilled in for February or March 2012.
Once you've got Glastonbury under your belt where else would you like to play?
I'd love to do Coachella, Fuji Rock, Summersonic, Benacissm, I'd just like us to play all the time, we all love playing shows.