Fewer Sandwich lettings for Open Golf Championship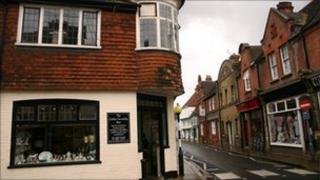 The economy has been blamed for low take up of homes for rent in Sandwich during the Open Golf Championship in two weeks time.
Property letting agents have reduced prices to attract more bookings for the duration of the week-long tournament.
Lettings agent Wendy Knight said: "We've got a difficult economic climate, even the biggest companies have had to slash their budgets."
The Open takes place at the Royal St George's course from 14 to 17 July.
'Make it worthwhile'
Gillian Hardy, a bed and breakfast owner, wanted to rent her five-bedroom property for £18,000 for duration of the championship.
After not finding a tenant with the price reduced to £15,000 she said she was now taking bed and breakfast bookings.
She said: "We were going to rent the property and this has been ongoing for a couple of years so we have been fending off the bed and breakfasts for all that time.
With two weeks to go her property is not yet fully booked. She said: "Two years ago people were wanting a week's accommodation and now we're getting people who just want one night."
Colebrook Sturrock, the official letting agent for golf governing body, the R&A, mainly has corporate clients and advertises properties to rent during the Open from £2,000 to £22,000.
Wendy Knight, the agent's lettings coordinator for the Open, said: "If you're letting out your house, by the time you've paid commission, you've had to do things to your house and you've paid tax on whatever you get there's not a lot left over, so you've got to make it worthwhile for people to let their properties out.
"We based things on prices of previous years and really the recession has hit golf the same as it has hit anybody else."
In 2003, the last time the Open was held at Royal St George's, the official letting agent, G W Finn & Son, let about 120 properties.
Nicholas Rooke, a partner at G W Finn & Son, said: "This year the money isn't there for the cooperate entertainment, the cash isn't being splashed.
"There's also an excess of supply because more people are trying to make some money by letting their house."
Ms Knight would not say how many bookings Colebrook Sturrock had taken so far for this year's Open.
She said 90-minute high-speed trains between Sandwich and London during the championships may also have put some people off staying in Sandwich.
Matthew Philpott, who co-runs the George and Dragon pub in the town, said that he thought more people would visit the Open for one day instead of the whole week.
However, table reservations are up. He said: "We're booked out from 8pm to 9.30pm for every day [of the Open] and we filled this before the start of the year."
In 2003, Visit Kent recorded 182,585 spectators at the Royal St George's course and £17.6m additional spending in east Kent.
Cheryl Parker, tourism development manager, said: "We are expecting an increase on 2003 in the number of people visiting and in the economic impact to Sandwich and to the county.
"200,000 spectators are expected this year. There may be shorter stays, two or three days rather than whole week, corporate clients are not entertaining but they are not the only market, there are a lot of other factors to consider."