Kent MP Tracey Crouch offers to help strike-hit school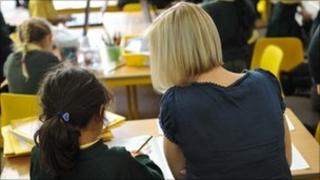 A Kent MP is taking the day off from Parliament to help keep children in classes on Thursday as teachers walk out in a dispute over pension changes.
A total of 202 schools in Kent and Medway plan to either close or partially close for the day of action.
Two teaching unions will join other civil servants in the strike.
Tracey Crouch, the Conservative MP for Chatham and Aylesford, will offer to help a school in her constituency so that classes are not disrupted.
"Education shouldn't be a political football and I think it's unfortunate that many parents are going to find themselves in trouble trying to find childcare for the day because of the fact that it has descended into this," she said.
"I want to make sure that I am there to support the teachers that aren't striking
"If it's a primary school maybe I can help with some reading or some literacy. If it's a secondary school perhaps I'll be able to take an English, or a History or a Politics class."
Across the UK, up to 750,000 teachers and civil servants are due to strike over planned pension changes they say will mean them working longer and paying more.
Police checks
Members of the National Union of Teachers (NUT) and the Association of Teachers and Lecturers (ATL) will take part in the action.
Ms Crouch, who has undergone police checks to work with children in the past, said she was not suggesting that she was in any way qualified to take a class, but she "just wanted to be able to help".
"I think the important thing is making sure the class is there, that the children are in school and that the parents themselves can go off to work safe in the knowledge that their children are being looked after."
However, John Walder, Kent's NUT secretary, questioned what she was hoping to achieve.
"If she doesn't want education to be a political football she should desist from what she's doing and be silent," he said.
Rallies are due to be held on Thursday across Kent, in Canterbury, Chatham, Dover, Maidstone and Sittingbourne.