Sandwich businesses not confident Open will boost sales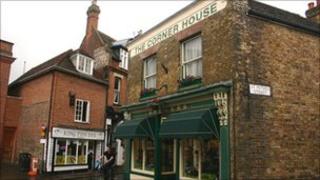 A tourism body is advising shops in Sandwich to trade for longer during the Open Golf Championship to take advantage of increased visitor numbers.
However, some shop owners in the town say it would cost them more and would not be economic.
Visit Kent recorded 182,585 spectators and £17.6m additional spending when the Open was last held in Kent in 2003.
Jeweller Derek Smith said: "They will be relaxing... not necessarily going out on a shopping spree."
'Not a success'
Visit Kent is expecting the Open to have a larger economic impact in 2011 than it did in 2003 and has advised local businesses to sell golf-related items and extend opening hours.
Trevor Howard, who runs Brewers shoe shop, said: "In 2003 we invested into a lot of golf wear and clothing, it wasn't a great success."
"We will try opening late and see if it's successful... but I think the people that make the best of it will be the restaurants and the pubs."
Mr Howard said: "It puts the town on the map, it's good PR for the town and hopefully those who see it will find it interesting and quaint and will want to come and see it another time. Short-term it's difficult."
Cheryl Parker, tourism development manager at Visit Kent, said: "We expect 200,000 spectators this year and an increase on 2003 in the economic impact to Sandwich and to the county."
The Open Golf Championship returns this year to the Royal St George's course from 14 to 17 July.