Camberley and Frimley 'nightmare' school merger dropped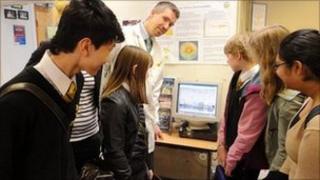 Campaigners at a Surrey secondary school have called for it to be removed from local authority control after merger plans were abandoned.
Surrey County Council stopped the merger between Kings International College, Camberley, and Tomlinscote School, in Frimley, after opposition.
Tina Carney, the mother of a 15-year-old Kings student, said it had been a "total nightmare" for the community.
The council said it wanted to guarantee a successful future for Kings.
The school was put into special measures by Ofsted after it failed an inspection in January last year.
The council proposed to merge the school, which has about 680 pupils, with Tomlinscote, which has more than 1,500.
Both are currently being run by executive head Tony Ryles but parents at both schools opposed the merger.
On Monday governors at Tomlinscote rejected it unanimously, but stressed their "strong support" for Kings through the current arrangement.
Ms Carney said she was delighted the council had halted its consultation on the merger.
'Let down'
"Surrey County Council has put Kings International, Tomlinscote and the whole community through a nightmare over the last few months," she said.
"We feel that they have not supported Kings in a positive way and we want to become an academy.
"We feel they have let us down very badly and we should not be under their control any more."
County council spokesman Peter-John Wilkinson said Kings International had shown it was improving since it was put into special measures.
But the council accepted the merger was unpopular, particularly with Tomlinscote parents.
He said there was a need to increase pupil numbers at Kings International.
"There will be a new head of school at Kings starting in September," he said.
"We want to give it a reasonable chance to thrive and so have removed the immediate threat and will be looking at it again over the autumn."