Shoreham memorial cross anniversary service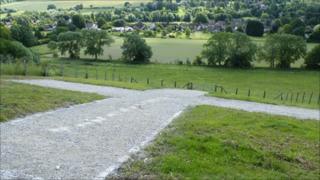 A service has been held to mark the 90th anniversary of the unveiling of Shoreham's chalk cross in Kent.
The 100ft (30m) cross on the hill above the village is a memorial to the 50 villagers who were killed in WWI.
The sightlines from the village to the cross became obscured, until they were cleared last year thanks to £2,600 raised by Ann Palmer, from Shoreham.
Schoolchildren placed 50 wooden crosses around it at the memorial service on Sunday.
The cross was originally the idea of Samuel Cheesman, who lost both his sons in the Great War, and David Madge, the vicar of St Peter and St Paul.
Restoring the view
Construction of the cross started in May 1920 when villagers set off to carve the first stone, to the accompaniment of the Shoreham Brass Band playing Lest We Forget.
It was made with compacted chalk, and has been rechalked several times by Shoreham Parish Council.
When Ann Palmer moved to the village in 2004 she was dismayed to discover the view of the cross had become obscured.
She said: "When we saw a photograph taken in the 1930s it became all too apparent that the original sightline from the memorial by the river to the cross had been allowed to become completely obscured by trees."
Mrs Palmer began a campaign to restore the view and raised more than £2,600 to carry out the work and obtained permission from Sevenoaks District Council, which owns the land.