Caterham Soper Hall victor to be decided next month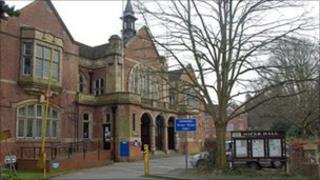 The winner of an 18-month battle between a church and community group to take over a council-owned building in Surrey is to be decided next month.
Caterham Baptist Church wants to move into Soper Hall in Harestone Valley Road from its Beechwood Road premises.
But the Soper Hall Group, formed in January 2010, wants to run the 100-year-old building for the community.
Tandridge councillors debated for two hours on Thursday, but passed the dilemma to the full council on 21 July.
Soper Hall is currently used by community organisations such as the Citizens' Advice Bureau and Tandridge Lions Talking Newspaper.
But the council decided in October 2009 it could no longer afford the £25,000 annual losses and has since agreed to transfer the building.
'Attractive vision'
"We have rejected the 'do nothing' approach and we have also rejected selling the building," said resources committee chairman, Councillor Martin Fisher.
"We recognise the attractive vision put forward by the Soper Hall Group for rejuvenation of the hall and that it does offer the widest possible cross-section of support.
"But the Baptist Church business plan is simple, it is an established organisation and it would also have a good chance of success."
Soper Hall Group chairman Graham Tapley said he was baffled that the committee had failed to recommend one or other group to take over.
"If we have the widest possible community appeal, why give it to a church with narrow community use?" he said.
"It doesn't make sense."
Caterham Baptist Church said it wanted the building because of lack of space at Beechwood Road.
But it did not wish to comment until the council had made a final decision.