Canterbury council set to buy new £17k mayoral robes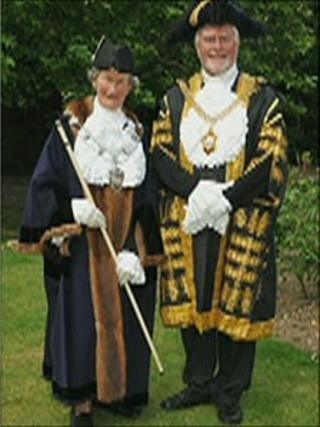 Canterbury City Council is recommending that the Lord Mayor's robes be replaced at a cost of £17,000.
Other options being considered are to clean and repair the current robe, or replace the the current robe body.
Taken over the 20-year lifespan of the new robes, full replacement would be the cheapest option, the council said.
In 2010 the council said it expected to reduce its overall spending by up to 25% over the following three to five years.
Cleaning and repairing the robe would cost £3,575, and £11,795 would pay for a a new robe body which is expected to last for 10 years.
The current robe would still be shown in displays and used at engagements in bad weather, said the council.
'Full of holes'
Chief executive Colin Carmichael said the cost of the current robe worked out at about £15 a week for the past 25 years and it had been worn between 30 to 50 times a year.
"We've repaired the robe so many times now that it's looking a bit silly and full of holes," he added.
"It's a lot of money, but it's probably better value to replace it."
The full council will debate the mayoral robe on 14 July.