Public speaking at Lydd Airport inquiry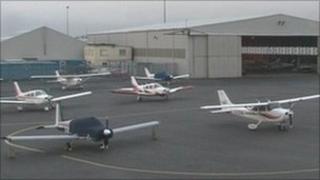 The inquiry into the expansion of Lydd Airport opened to the public to give their views on Tuesday.
Campaigners against the expansion say it will bring noise pollution and damage wildlife in one of the South East's most tranquil sites.
But business leaders back the plans, which they say will bring jobs to an area desperately needing regeneration.
So far 30 people have expressed a wish to speak at the two sessions which are open to the public.
The inquiry began in February, after the government overruled the council's decision in favour of construction of a runway extension of almost 300m (328yds) and a new terminal.
Those for the development include two groups of local businesses and the Channel Chamber of Commerce. Those against include the RSPB, Protect Kent and Natural England.
The RSPB said the Dungeness peninsula was one of the most important and sensitive wildlife habitats in the UK.
But Philip Carter, chairman of Shepway Economic Regeneration Partnership said: "You have to choose whether you are picking for the people and the jobs or the pebbles and the newts."