Kemsley incinerator drop-in sessions held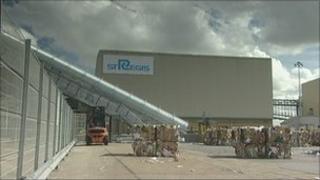 People living near a waste-to-energy incinerator to be built in Kent are being asked to comment on the plant's environmental impact.
The Environment Agency (EA) is holding the first of two drop-in information sessions as part of its consultation on the incinerator at Kemsley Paper Mill.
The plant has been granted planning permission but still needs an environmental permit from the EA.
The sessions are being held at Kemsley Village Hall on 7 and 14 July.
Residents opposed to the incinerator, near Sittingbourne, fear it will lead to air pollution, food contamination and traffic congestion.
'Human health'
The owners of the mill say the incinerator will give it a long-term power source, securing hundreds of local jobs.
The EA's consultation on its decision to issue a draft permit lasts until 22 July.
"An environmental permit sets out stringent conditions that a plant must adhere to," said EA manager Alan Cansdale.
"We will not issue an environmental permit for any industrial site if we consider it will cause significant pollution to the environment or harm human health.
"Giving people the chance to come and speak to us and find out more information is a vital part of our consultation process "