Lydd Airport expansion 'would damage schoolchildren'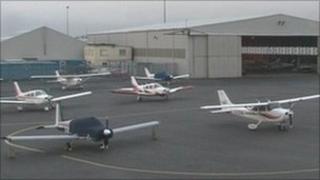 The sound of increased planes taking off and landing if Lydd Airport is expanded could damage pupils' ability to learn, Protect Kent has said.
Chairman Richard Knox-Johnston was addressing the inquiry into the expansion, which began in February.
Protect Kent said Lydd's extended runway would be within a third of a mile of Greatstone Primary School.
It said several reports had stated that children's cognitive skills could be impaired by excessive plane noise.
Campaigners against the expansion of Lydd Airport say it will bring noise pollution and damage wildlife in one of the South East's most tranquil sites.
The plans have been backed by business leaders, who say it will bring jobs to an area desperately needing regeneration.
'Large aircraft'
The inquiry began in February, after the government overruled the council's decision in favour of construction of a runway extension of almost 300m (328yds) and a new terminal.
Protect Kent argues that the future of children at Greatstone Primary School, which has in excess of 360 primary age and 50 nursery age children, should not be jeopardised by the extension of the runway and "the potential increase in large passenger aircraft".
It submitted to the inquiry as evidence research reports on noise and children's development which dealt with the effects of noise on children's' learning.
Protect Kent said: "They state that reading ability is delayed when children are subjected to high levels of noise and can impact very negatively on cognitive development."