News of the World naming Kenneth Noye 'put officers at risk'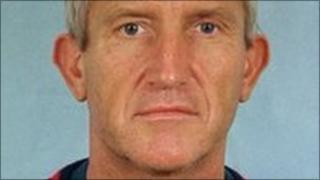 A former senior Kent detective has said leaks of information to the News of the World about the Stephen Cameron murder may have put his officers at risk.
Nick Biddiss, who was in charge of the 1996 M25 murder inquiry, claims the paper named chief suspect Kenneth Noye before it had become public knowledge.
He said he believed informants were paid for that and other information. Noye was jailed for life in 2000.
When approached by the BBC, the News of the World said it had no comment.
Noye, now 64, stabbed 21-year-old Stephen Cameron during a fight on an M25 slip road at Swanley.
He fled to Spain after the murder but was extradited in 1998 ahead of a trial at the Old Bailey. He was jailed for life in 2000.
'Known killer'
Kent detectives had suspected Noye was responsible, sharing the information with Interpol and the Metropolitan Police.
Mr Biddiss, the former head of Kent CID, said he believed someone in the police leaked the information, and other details, to the News of the World.
"There were leaks, and definitely there were people who were telling the media, making phone calls to the media, and giving them information," he said.
Mr Biddiss told BBC South East Today he had no doubt that those responsible were receiving something in return, if not money.
"I don't know what they were receiving because [we] never got to the bottom of it."
The actions of the News of the World in publishing the information let Noye know that the police were onto him and also put officers at risk, Mr Biddiss said.
"We were putting officers into dangerous situations. Kenneth Noye was a known killer and what I didn't need was publicity about that, and the vast majority of journalists respected that and were very co-operative.
"But the News of the World weren't."
In a statement, Kent Police said any breach of the Data Protection Act would "potentially be gross misconduct, an offence that will prompt an internal disciplinary procedure and may involve a criminal investigation, resulting in a criminal conviction".
"The force has a zero tolerance approach in relation to those who compromise an investigation by the unauthorised release of information, regardless of the nature or scale of that investigation.
"Those who fall short of the standard expected by Kent Police will face disciplinary action."
It added that in relation to the investigation of Stephen Cameron's murder it had no reports of security breaches raised with Kent Police's Professional Standards Department.