Surgeon hits out at Medway NHS bullying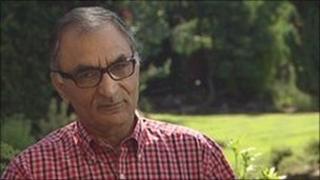 A senior surgeon and former medical director of Medway NHS has criticised the health trust after an independent report backed his bullying complaint.
The report said there had been a bullying campaign against Gulzar Mufti while he was medical director there.
Mr Mufti told the BBC the trust had "weak administration" and said bullying in a hospital risked patient safety.
The trust said it took bullying claims seriously and there was no reason to believe patient care was compromised.
During Mr Mufti's 20 years at the Kent trust, he was medical director for five years until 2009, and a board member, and also received a clinical excellence award for his services to the NHS.
'Safety risk'
The report said three doctors had acted together in what had been construed as a "group campaign of bullying", a referral letter written by his colleagues to the General Medical Council "was malicious", and colleagues had put "pressure on the trust to remove Mr Mufti in disgrace".
It said: "We are of the view that there was a persistent course of conduct that amounts to bullying of Mr Mufti."
Mr Mufti told the BBC: "I was the medical director, I was the head of all the doctors. I had to performance manage some consultants and then the group comes together and bullies me."
He added: "Then the trust investigates that bullying. The external investigation labels them as guilty and the trust then doesn't take any action. [It] only speaks of a very weak administration."
Mr Mufti said: "A senior person like me, a member of the trust board, is not immune from bullying. How can the current administration of the trust board assume that there's no bullying of staff at the hospital?"
He added: "A harassed, or bullied employee, who's got to look after patients at the same time, is a risk to patients' safety."
Staff survey
In a statement, the trust said: "Allegations of bullying are taken extremely seriously at the trust. That is why a third-party report was commissioned by the trust to independently investigate Mr Gulzar Mufti's concerns.
"This report was non-definitive of the majority of allegations - i.e. actions could be construed as bullying rather than that they were bullying.
"The trust has concluded the internal grievance process with Mr Mufti, and he has not appealed the outcome of that process. However, internal processes for considering if further action is needed have yet to be concluded."
It added: "None of the findings in the report give reason to believe that any aspect of patient care or treatment was compromised."
Medway NHS Foundation Trust, which has 3,900 staff, was found in April to have one of the highest levels of bullying in the country. One in five staff complained of being picked on, in the research carried out by the Care Quality Commission.