Margate tower block residents plan car park protest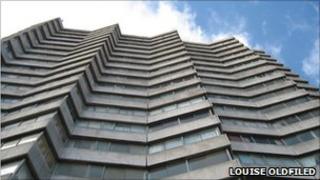 Residents of a Margate tower block plan to obstruct the building of a supermarket on their existing car park.
The plans are for a 7,565 square metre store with parking spaces and a 60-room hotel at the base of Arlington House.
The residents' association says the plans will cause traffic chaos on Margate's seafront.
Thanet District Council will make the final decision whether to grant planning permission after the secretary of state sent it back to the authority.
The secretary of state for communities and local government told the local council there was no "sufficient reason to call the application in" and that it "should be determined at a local level".
The application includes proposals for Arlington Square, the area surrounding the 1960s tower block, where existing shops would be demolished and replaced with a hotel, shops, offices, cafes, restaurants or bars.
'Strong feelings'
About 80 residents of the 142-flat tower block on All Saints Avenue have agreed to not move their cars from the tower block's existing car park if work starts on the development.
John Moss, the vice-chairman of Arlington House Residents' Association, said: "We were hoping that the secretary of state would look more carefully at the application.
"We say it's going to cause chaos."
Mr Moss said the only option remaining for residents was to try to retain their dedicated car park.
"Under the planned proposals our cars are going to be parked round the outskirts of the Tesco car park."
Councillor Simon Moores, from Thanet District Council, said: "We're aware of the strong feelings held by some people on this issue."