Talks over Tunbridge Wells civic complex to be webcast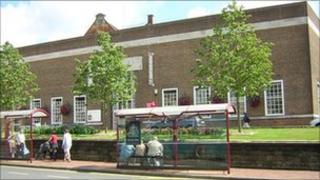 The future of the civic complex in Tunbridge Wells will be discussed by councillors on Wednesday.
Arrangements have been made for a live webcast of the meeting because the civic complex "is always a matter of great interest", the Kent council said.
Members will be asked to "take account" of views expressed in consultation before making any decisions.
The council had said part of the site, which houses the town hall, theatre, library and museum, could become shops.
'New cinema'
A consultation report, published in May, said feedback highlighted the popularity of the theatre, library, museum and art gallery and many people also felt the town centre needed a new cinema again.
People had mixed views on where the council chamber and committee rooms should be located and there was limited mention of the war memorial, but the groups who did mention it unanimously stressed its importance.
The report said people felt the town's retail was suffering and a significant number of people wanted more shops and a new department store. People also wanted a better transport infrastructure and cheaper parking.
The report, published in May, said consultation began after a period of "intense speculation and controversy about the future of the area and the town centre as a whole" and it said "the atmosphere at the start was one of mistrust and cynicism".
It said the aim of the consultation, which had more than 6,000 responses, was to reassure people and provide transparent results.
But it said: "What is clear is that as many people wanted to see change and improvement in the civic complex and town centre as a whole, as did not want anything at all to change."
Tunbridge Wells council said the webcast would also be available to view after the meeting.