Dover port plea for Roundhill Tunnel bridge to reopen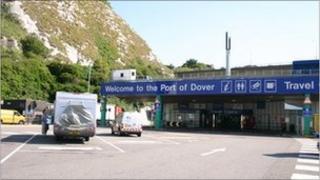 Calls to reopen lanes on a bridge leading from Roundhill Tunnel have come from Dover port and ferry operators.
The east Kent port, P&O Ferries, DFDS Seaways and SeaFrance have told the Highways Agency the lane restrictions could lead to worsening congestion.
Traffic is expected to increase by 50% this weekend, as school holidays start.
But the Highways Agency said special equipment had to be made and could take a year to be installed.
The agency closed one lane each way for safety reasons in May, when a component in the bridge was found to have failed, and a 30mph speed limit was put in place.
'Worse than Stack'
The Highways Agency said: "We are making arrangements to permanently repair the failed components on the Roundhill viaduct as soon as possible.
"The components required for the repair are large, specialised pieces of equipment, they have to be specially manufactured and it is likely to be around the end of the year before they can be delivered and installed.
"In the meantime, we will continue to look for short-term ways to improve traffic flows over the bridge."
A joint statement from the port and ferry companies said the repercussions of not taking action could make the situation "worse than Operation Stack".
Operation Stack is implemented when there are delays at Channel ports and allows lorries waiting to cross the Channel to park on the M20 motorway. On some occasions this has caused congestion for several days on main roads in Kent.
The statement said: "A permanent repair to the fault is several months away and so the need to provide an adequate temporary solution is becoming critical."
The travel operators said more than a quarter of a million passengers were expected to travel by ferry via Dover this weekend.