Isle of Sheppey parents petition to keep teacher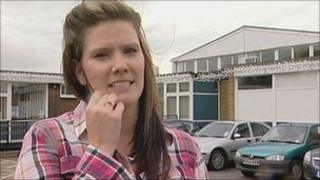 Parents at a Kent school are fighting to save a teacher from having to leave the country when her visa runs out.
They say children and staff at West Minster Primary School were in tears when they found out Kylie Wheatley, from Canada, would have to leave.
She has been at the Isle of Sheppey school or two years but has been told she cannot extend her original visa.
The Department for Education (DfE) said it was weighing up changes to make it easier to employ non-EU teachers.
But it said Home Office visa rules meant Ms Wheatley had to go back home, then apply from Canada to return to the UK.
Ms Wheatley, who has two degrees from Canada and a teaching diploma, has been working on a two-year Youth Mobility Scheme visa sponsored by her own government.
She said she had been told told her qualifications would not be recognised if she tried to return on a different type of visa.
She fears she will not be able to return to work as a teacher.
'Established here'
"I am devastated," she said. "I want to stay and continue my life here with the kids I love.
"I am established here, my partner is here.
"If it turns out that I have to go home, then I have to go home. I am not going to fight against the government or anything.
"I just hope that we can get this resolved."
Parents organised a public meeting and a petition in support of Ms Wheatley, who they described as a "fantastic" teacher.
"We feel robbed, considering she has already been here and now she is being sent back," said mother Shirley Hoy. "We feel it is unfair."
Her son, Charlie, said: "Before she taught me I was one year lower than I was supposed to be but now I am one year ahead.
"I just really don't want her to go."
The DfE said the government was weighing up changes which would make it easier for British schools to employ teachers from countries such Canada, Australia or New Zealand.
If approved, they would take effect from early next year.