Clear-up of smelly seaweed on Thanet beaches starts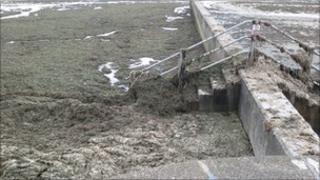 Contractors have begun shifting rotting seaweed from north Kent's beaches as residents warn it will damage tourism.
Thanet District Council said the clean-up had started in Broadstairs and would move to Minnis Bay on Thursday.
It follows complaints from local residents and businesses that the seaweed "stinks beyond belief".
Lynn Ashby, a Minnis Bay resident and business owner, said: "It will kill our tourist trade if we don't sort this before the kids break up."
Ms Ashby said on Minnis Bay, near Birchington, the seaweed was over two feet deep in places.
Local resident Jean Whitehead said: "Some bays are better then others but the smell is horrendous."
Fertiliser
Geologist and councillor at Thanet District Council, Dr Alasdair Bruce, said: "We had unusual tides coupled with some dire weather last week.
"That's ripped off the seaweed on our reef systems here at the point where it's at its full growth."
Dr Bruce said a licence was required to removed the decomposing seaweed and the council was in discussion with local farmers who are keen to use it as fertiliser.
Dr Bruce added: "We have contractors coming round the coastline, they're in Broadstairs today, they'll be in Minnis Bay tomorrow and we will get this stuff shifted as soon as we can."