Maidstone McDonald's criticised for Mosquito device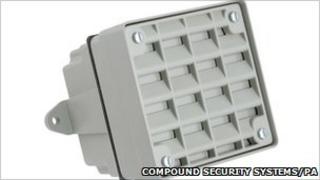 A Kent McDonald's has been criticised for installing a device aimed at deterring groups of young people from congregating outside.
The high pitched sound from the Mosquito can usually only be heard by those under the age of 25.
The children's charity Kidscape said: "We can't have young people treated like pests or animals."
McDonald's said the device was fitted at its Week Street premises, Maidstone, following feedback from customers.
In 2008 the Children's Commissioner for England called for a ban on the devices, describing them as "degrading and discriminatory".
The ability to hear the high pitched sound deteriorates with age.
'Timer switch'
In a statement, McDonald's said: "The device is operated by the restaurant management only as a last resort if groups fail to move on after being asked to do so by the duty manager.
"The device is fitted with a timer to switch off automatically after a set period of time."
But Peter Bradley, deputy director of Kidscape, said: "We need to be careful about young people congregating and how that can be assumed to be a problem or to cause trouble. Let's not just make assumptions."
The Kent Green Party claimed the Mosquito discriminates against young people.
The party's chairman, Stuart Jeffrey, said: "If this was a device for keeping black people, women or the elderly away, McDonald's would rightly be prosecuted, so why should society tolerate discrimination against young people?"
Howard Stapleton, managing director of Compound Security Systems which makes the device, said: "I would love to see legislation to cover this device, sometimes they are used irresponsibly, but in this case I think he (the restaurant franchisee) has good cause and reason."