Kent woman sees off burglar with air rifle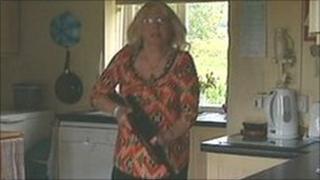 A Kent woman who chased a burglar out of her home with her husband's air rifle has said she would do it again to protect her property.
Mavis Britcher, 73, from Saltwood near Hythe, said she grabbed the rifle when she heard a window smash downstairs.
The burglar, Malcolm Haben, fled empty-handed and was later caught by police.
Haben, 52, of Guildhall Street, Folkestone, was jailed for five years at Canterbury Crown Court on Monday after admitting three burglaries.
'Very brave lady'
Mrs Britcher said: "I was terrified, I was angry. I don't know why I picked it up, but it was just there and I grabbed it.
"I would do it again simply because it's my home. How dare they?"
Her husband Fred, who owns the air rifle legally, said: "If it had been a few seconds later, the guy would have gained access to the house and who knows what would have happened then?"
Det Ch Insp Julien Lawton, of Kent Police, said Mrs Britcher was "a very brave lady" whose description of Haben helped officers bring him to justice.
However, he advised people in a similar situation to phone 999 immediately.