Bereaved Kent mother backs defibrillator campaign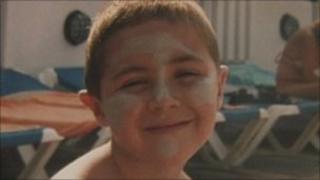 The mother of a boy who died from a heart attack while playing rounders is backing a campaign for defibrillators to be installed in schools.
Eight-year-old Charlie Morettes died in 2007 after collapsing during a PE lesson at his school in Kent.
His mother, Allison Spalding, has helped his brother and sister's school to install a machine as part of a campaign run by charity SADS UK.
The Department for Education said it was for head teachers to decide.
Charlie was a pupil at Sutton-at-Hone Primary School, near Gravesend.
"He went to school like any normal day," said Mrs Spalding.
"We got a phone call to tell us that he had collapsed while playing rounders and we arrived at the school at the same time as the ambulance crew.
"Charlie was treated at the scene but later died."
'Better chance'
His siblings go to Cuxton Community Junior School, which has just installed a defibrillator.
"I can't say for definite that it would have made a difference for Charlie, but I do know it would have given him a better chance," said Mrs Spalding.
Head teacher Tracy Terry said the school was inspired to install the equipment by Charlie's story.
"It is a life-saving piece of equipment," said South East Coast Ambulance worker Clive Goddard who visited Cuxton school to demonstrate the machine.
"For every one minute delay, the patient's survivability goes down by 10% so the quicker the better really."
The DfE said in a statement: "We welcome any steps to help save lives.
"But it is rightly down to individual heads to decide whether to have defibrillators in their schools.
"We feel it would not be right to legislate to force schools to have them."