Rescue bid under way for Bali crash man Richard Plummer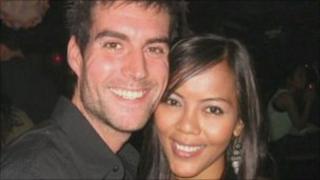 A specialist doctor is to fly to Bali to assess a Kent man seriously injured in a motorbike accident in the hope that he can be flown home.
Richard Plummer, 32, from Maidstone, is in a coma in hospital on the Indonesian island after the crash on 1 July.
His travel insurance had expired and his parents, June and Eric Plummer, fear they may have to sell their house to pay for the evacuation.
"We are trying our utmost to save him," said 75-year-old Mr Plummer.
Mr and Mrs Plummer and their eldest son Rob have flown to Bali to be by Richard's bedside but are due to return home on Tuesday because their own travel insurance is due to expire.
"We speak to him every day but the only response we have got is a little opening of the eye when my son was speaking to him," said Mr Plummer.
"He is on dialysis and he has got trouble with his lungs so he is not getting a lot of oxygen to his brain.
"The prognosis from the consultant in the hospital is not good. They do not have the facilities here to look after him.
"He can only be moved by air ambulance, but even that is risky."
Richard Plummer has been in Bali since 2009.
The rescue operation is being led by MP for Maidstone and the Weald, Helen Grant.
"The plan is to get Richard out of Bali as quickly as possible," she said.
"In order to ensure that is safe we are sending a UK doctor over on Monday to assess him.
"Subject to that assessment, we hope to get him on a specialist air ambulance to fly him at low altitude back to the UK.
"The cost of that is going to be huge. The family are looking to raise £80,000 to get their lad 8,000 miles back on to British soil.
"We have got free flights for the doctor and free accommodation and he is giving his time free, so we are very, very grateful."