Kent Police officers told to cover up tattoos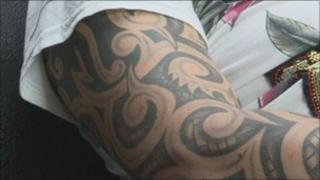 Guidelines have been issued to Kent Police officers advising them to cover up their tattoos.
The Police Federation, which represents officers, objected to the guidance and said tattoos could be an "ice-breaker" between the police and young people.
Assistant Ch Con Allyn Thomas said staff were expected to look professional and smart while on duty.
Kent Police Federation chairman Ian Pointon said the guidance highlighted "a generational gap".
'A different attitude'
He said: "Officers have said to me, particularly when they're dealing with younger people, that actually their tattoos can be something of an ice-breaker.
"And I think what this highlights is a generational gap in attitudes to tattoos.
"I think people of my age don't like tattoos. I certainly don't. But I think there is a different attitude with many youngsters."
A statement issued by Kent Police said: "The policy at Kent Police is that some tattoos could potentially offend members of the public or colleagues, or could bring discredit to the police service.
"Staff with tattoos that detract from displaying a professional image may be asked to cover them. A tattoo is deemed to be offensive if it is rude, lewd, crude, discriminatory, violent or intimidating."
Mr Thomas said: "As has always been the case at Kent Police, there is an expectation that officers and staff maintain a standard of appearance and dress considered professional, smart and approachable, whilst on duty."
Kent Police guidance on tattoos states: "Tattoos which may be considered to be offensive to any person, and/or are excessive - for example, covering a large area - will remain covered."