Kent facing homeless 'crisis', says Porchlight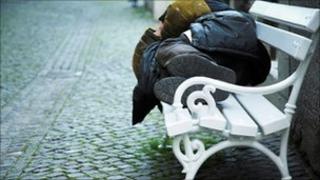 The number of people needing help and advice with accommodation in Kent has nearly doubled in a year according to a charity which helps homeless people.
Porchlight said the county was heading for "a homelessness crisis on a deeply concerning scale".
The charity said 2,284 people asked for help in the financial year 2010-2011, a 40% increase on the year before.
"We have seen this coming for a couple of years," said chief executive Mike Barrett.
Porchlight, based in Canterbury, provides support, outreach and accommodation to homeless people in Kent.
It said that requests for accommodation increased by 22% in 2010-2011, from 1,224 to 1,497 and calls to its rough sleeper service from 408 to 787, an increase of 93%.
"There are more and more people contacting our freephone services," said Mr Barrett.
"They are losing their jobs, they are losing their homes, their relationships are breaking down and they can't get into drug and alcohol treatment services."
The charity said forthcoming changes to Housing Benefit and the government's Localism Bill would put more pressure on its services.
It was also concerned about proposed cuts in Kent County Council (KCC) grants next year, including a cut in the grant for rough sleepers from £500,000 to £136,000 from November.
KCC said that despite the cuts the actual numbers of people being helped overall would reduce by only 6%.
It was planning to reduce the number of hours offered to each service user instead.