Rescued little owls go on display at Wildwood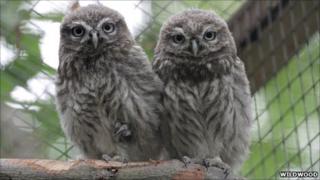 A pair of abandoned little owls have gone on display at a Kent wildlife park.
The brother and sister, found in a workshop, were the only survivors from their brood after their mother died.
They were rescued by the workshop's owner and taken to Wildwood where they were raised by the park's keepers.
The pair, now 14 weeks old, were named Tipex and Bostik, after the keepers marked one of the young owl's claws so they could tell them apart.
Head keeper Paul Wirdnam said: "We are really pleased with how the owls are settling in.
"It's hard to believe that they are almost fully grown as they are such small birds, but that's what makes them special."
As the owls were hand reared they are not able to fend for themselves, and will not be released back into the wild.