Twelve held over illegal tobacco operation at Kent farm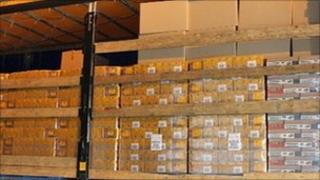 Twelve people have been questioned after customs officers uncovered a huge tobacco smuggling operation in Kent.
Following a raid on a farm near Ashford on Tuesday, 1.4 tonnes of hand rolling tobacco was seized.
About 60 customs investigators, assisted by officers from Kent Police, searched one commercial and six residential properties.
HM Revenue and Customs estimated the revenue evaded on the tobacco to be about £200,000.
The 12 men, aged between 19 and 78, and all from Kent, were later released on bail pending further inquiries.