Loan agreed to fly Kent coma man back from Bali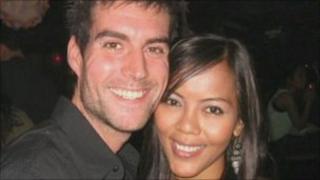 A critically ill Maidstone man who has been stranded in Bali since a motorbike accident may now be flown home thanks to a loan from a mystery benefactor.
The parents of Richard Plummer feared he might die on the Indonesian island because they could not afford the cost of bringing him back to the UK.
The 32-year-old has been in a coma since the accident on 1 July.
His father, Eric, 75, said a man had agreed to lend the family around £80,000 to help fund his son's return.
June and Eric Plummer have so far had to use their £20,000 life savings to pay for Richard's care because he had not renewed his travel insurance.
Return 'in balance'
But they feared he would be stranded in Bali - where he has been staying since 2009 - after their savings ran out.
Raising a loan sufficient to cover the estimated £96,000 cost to repatriate Richard Plummer has proved difficult in view of their age.
Now a man has agreed to lend the family most of the money on condition of anonymity.
Mr Plummer said: "The deal has been agreed. They money is being paid for the air ambulance."
But he revealed his son's return, possibly on Saturday, is still in the balance because of the severity of his illness.
"Nothing has been guaranteed until the team on the air ambulance agrees to take him if he is deemed fit to travel...there is great risk in actually flying him. I gather there are five stops. The risk is in those stops."
Mr Plummer would not go into details about the financial arrangement, but said the family's home would be at risk if they failed to repay the loan from the benefactor.
The couple's eldest son, Rob, and Richard's pregnant girlfriend, Indri, have stayed by his bedside since shortly after the accident.