Elderly man dies in Medway house fire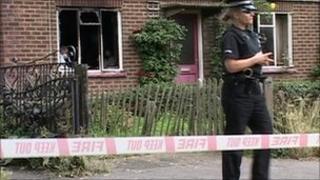 An 78-year-old man has died in a fire at a house in the Medway area of Kent.
Kent Fire and Rescue Service were called to the property in The Street, Upper Stoke, near Rochester, at about 05:35 BST on Saturday.
About 25 firefighters spent three hours tackling the blaze at the semi-detached house, which was spotted by a passerby.
The house was cordoned off to let Kent Police and fire officers investigate the incident. The cause of the fire is not thought to be suspicious.
Senior fire officer Bob Cherry said: "The fire had been burning for a reasonable period of time, in what we would call a slowly developing fire.
"It had been going for some time before the call was made by a passing member of the public who saw smoke start to come out of the front window at the ground floor of the house.
"Crews went in within a minute of arriving on the scene, wearing breathing apparatus and taking hose reels in, but it was clear to the crews that unfortunately the gentleman couldn't be saved."