Kent coma man Richard Plummer is flown home from Bali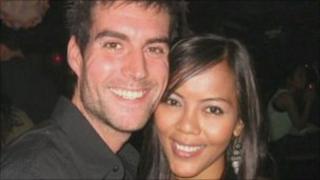 A critically ill Maidstone man who has been in a coma in Bali since a motorbike accident has been flown back to the UK in an air ambulance.
The parents of 32-year-old Richard Plummer have been lent about £80,000 to fund their son's return.
They feared he might die in Indonesia if they could not afford the cost of bringing him back home.
Eric, 75, said the flight left Bali at 04:40 BST and was expected to arrive at Stansted in the early hours on Monday.
Mr Plummer has been in a coma since the accident on 1 July.
'Still in coma'
June and Eric Plummer have so far had to use their £20,000 life savings to pay for Richard's care because he had not renewed his travel insurance.
Mr Plummer has been living in Bali since 2009.
His family said he was still in a coma and being accompanied by a German paramedic.
The plane flew via Sri Lanka, United Arab Emirates and Turkey during the journey.
Last week a private benefactor, who wished to remain anonymous, agreed to lend the family £80,000 to cover the cost of the air ambulance.
Eric Plummer would not go into details about the financial arrangement but said the family's home would be at risk if they failed to repay the loan from the man.