Message in a bottle found in Tonbridge water works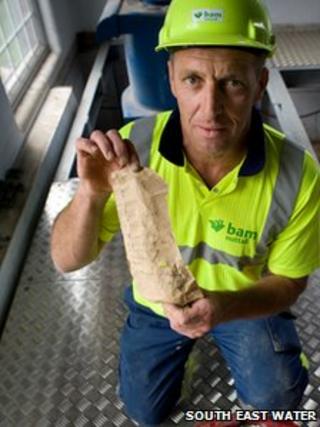 Workers upgrading a water treatment works in Tonbridge have discovered a message in a bottle left almost 40 years ago by a previous workforce.
Ted Beaney discovered the milk bottle and message while removing a plinth in the pump room.
The message reads: "This was erected by Dell the carpenter and Gareth the labourer 15th October 1975."
"It would be great if we could find out more about the people who put it there," Mr Beaney said.
The note had been written by workers on what seems to have been a similar project, and was signed "D. Radford".
Mr Beaney explained: "The machine I use seemed to break through this one section very easily which seemed strange.
"I went and took a look and found the note and broken milk bottle."
This find comes just months after the company found two Scales of Charges books at the same site.
The books were produced by the Tonbridge Water Works Company Ltd and were dated 1887 and 1908.
They were later donated to the Tonbridge Historical Society.