Folkestone artist Nicholette Goff uses DNA to 'save plants'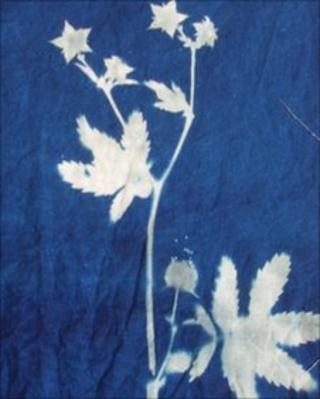 A Kent artist has been using DNA profiling to help save rare plant life at Dungeness as part of an art project.
Nicholette Goff from Folkestone uses living plant material to create art.
Working with the Durrell Institute of Conservation and Ecology (DICE), at the University of Kent she is helping to generate DNA profiles of rare plants.
She has also developed a system to make "prints" of plants in their natural environment which creates a record of the species that are threatened.
"By laying sample leaves or flower heads on paper or fabric they leave behind a ghost of colour and shape," said Ms Goff.
"What you're left with is a silhouette image."
Through the project, she is aiming to raise awareness of the vulnerability of some of the wildflowers on the RSPB Dungeness nature reserve and the Romney Marsh.
Stinking Hawk's-beard
Data from the DNA sequencing process can be viewed in a number of ways: as a barcode; in graph form or as a sequence of numbers.
Ms Goff plans to combine the DNA images with her prints of a rare wildflower, the Stinking Hawk's-beard.
The species was declared extinct in the 1980s but has been rediscovered on the Dungeness National Nature Reserve (NNR) which the RSPB reserve is part of.
Seed has been sown in trial plots on the RSPB reserve over the last few years as well as on a few places on the Point within the NNR.
The Stinking Hawk's-beard is distinguished by its nodding flower buds and the sickly sweet smell of bitter almonds from its crushed leaves, from which it gets its name.
Phil Beraet, assistant warden at RSPB Dungeness, said: "We don't know exactly why Stinking Hawk's-beard died out in the 1980s but we hope that the newly found plants and some re-establishment trials will see the population increasing back to the level it was at in the mid 1900s."
"The work Nicholette is doing is a really innovative way to get our conservation messages across and hopefully it will inspire a whole new audience."
An exhibition of the prints is planned for the Georges House Gallery, Folkestone in March 2012.