£120m Gravesend revamp 'will be collaborative project'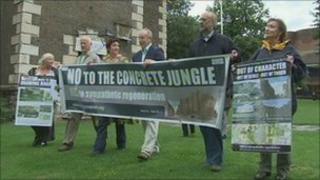 Developers have dropped an appeal against the rejection of plans to revamp Gravesend town centre, in an effort to come up with a compromise.
Edinburgh House now plans to work with the people who opposed its original £120m scheme for the Heritage Quarter.
Managing director Tony Quayle told BBC Radio Kent the company shared goals with the local council and protesters.
Now he hopes to work with them to produce a smaller-scale proposal more in keeping with the town's character.
Gravesham Borough Council threw out the plans last September, arguing that they were too large and not in keeping with the existing architecture.
The original proposal included provision for 400 flats, a hotel, restaurant and leisure facilities, shops and offices, as well as a new town square and parking for 1,000 cars.
'Appropriate vision'
But although it was rejected, following representations from scores of objectors, the consensus was that smaller-scale regeneration would still be welcomed.
Now Mr Quayle has promised to collaborate with the council and community stakeholders to achieve a scheme that would be viable but acceptable.
He said he was aiming to secure planning permission by spring 2012.
Council leader John Burden said: "They are not going to go away... We need to work with them to try to come up with an appropriate vision that people want."