Thanet Earth staff agencies 'did not breach guidelines'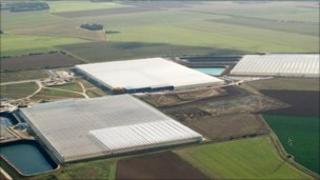 Agencies supplying staff to the UK's biggest greenhouse complex have been cleared of wrongdoing after complaints by a trade union.
The Gangmasters Licensing Authority (GLA) investigated three agencies used by Thanet Earth in Kent after Unite said they breached legal guidelines.
It found no issues with two agencies. A third was asked for more evidence and re-issued with a full GLA licence.
Unite said it welcomed the serious way in which the GLA had investigated.
Protests staged
The union claimed the investigation found some failures in the payment of wages.
But the GLA said this was untrue.
"The GLA investigated concerns relating to holiday pay relating to one agency only, and this matter has now been resolved satisfactorily," it said.
"The GLA wish to state that the Unite reference to agencies 'failing to pay wages' is in fact incorrect."
Thanet Earth, which grows salad vegetables on a 225-acre (91-hectare) site near Birchington for Tesco, Sainsbury's, Asda and Marks and Spencer, sold its first produce in March 2009.
The plant is less than 50% built and the company claims it will eventually provide work for 500 people.
Unite, which represents some of the migrant agency workers based at the complex, staged protests outside two supermarkets in Broadstairs in April.
'Full, clean licence'
The union claimed workers had complained of being denied holidays - or discriminated against if they took them - and continuing to be employed on a casual basis when they should be offered fixed contracts.
It said it had helped more than 70 agency workers with grievances.
Thanet Earth Marketing referred the union's complaints to the GLA for a full inquiry.
"On completion of their detailed investigation and follow-up work, GLA accepts there is no case to answer for any of the labour providers who supply workers to the Thanet Earth site," Thanet Earth said in a statement.
"Each retains a full, clean licence from the GLA."
The GLA said it investigated concerns about holiday pay relating to one agency and the matter had now been resolved satisfactorily.