Sandwich's historic Curfew Bell repaired and refitted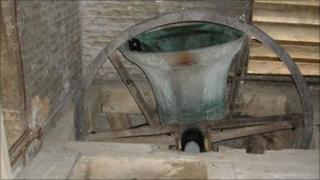 A historic bell which has been rung in Sandwich since the 13th Century has been repaired and refitted.
The Curfew Bell in St Peter's Church in Market Street in the town is rung every evening at 20:00 BST for ten minutes.
It was formerly called the Pig Bell as it signalled the time animals should be put out on the streets and also that townsfolk should put out their fires.
In March, the Whitechapel Bell Foundry Ltd inspected the bell and found that the fittings were corroding.
The company repaired the bell's fittings and refitted the bell in the bell tower.
Much of the cost of the repairs, which total almost £4,000, have been donated by local residents and businesses.