Pair sought in Kent Police baby April murder probe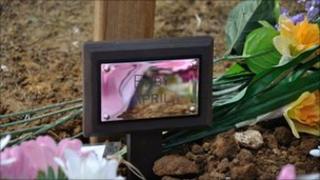 A man and a woman seen visiting the grave of a baby whose body was exhumed as part of a murder inquiry are being sought by Kent Police.
The couple were seen at the grave of baby April in March, in Ashford.
The body of the baby girl, who died of asphyxiation, was found in a bag near a lake in 1995. Her parents were never found and no-one was prosecuted.
The body was exhumed as part of a cold case investigation in the same month the couple were seen at the grave.
Officers obtained a full DNA profile of the baby before the body was reburied at Bybrook Cemetery in May.
Detectives investigated whether the couple were linked to other graves nearby before making an appeal.
Found by walkers
Det Supt Rob Vinson said: "We have descriptions of a man and woman who we are very keen to speak to in case they have information which will allow us to bring closure to this case."
The baby was found dead by a couple walking alongside Singleton Lake, near Ashford, on 3 April 1995.
The newborn, who weighed 7lb (3kg) and was named April by the investigation team, had been wrapped in a Kleenex toilet tissue bag, which was inside a Motaworld carrier bag.
It is thought she was born between 26 March and 3 April.
The couple seen at the grave were described as being in their 30s.
The balding man was of thin build, about 5ft 10ins (1.8m), and had a moustache and dark eyebrows. He wore a round-neck sweater and dark trousers and was thought to have been driving a four-door Toyota Auris.
The woman had a slim build with medium-length brown hair and wore a three-quarter length, fitted light-coloured coat, skinny jeans and beige Ugg-type boots.