Kent teenagers held on 'social network riot incitement'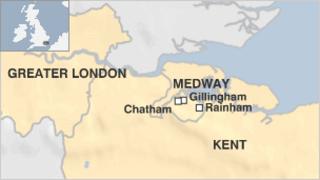 Two Kent teenagers have been arrested on suspicion of using social network sites to incite a riot.
Kent Police said a man and a woman, both aged 18, were arrested in Folkestone. They are being questioned in custody.
Officers said there were was a large police presence in town centres. Garage owners have been asked not to sell petrol in cans to anyone suspicious.
Eleven people were arrested following disturbances in the Medway towns.
Cars were damaged and set alight during disturbances involving the youths in Chatham and Gillingham on Monday and in the early hours of Tuesday.
They are being questioned by detectives at Medway Police Station.
Large police presence
Deputy chief constable Alan Pughsley said on Tuesday afternoon there had been no other reports of disorder in Kent and Medway.
He said: "Whilst Kent Police is not expecting further violence, we are actively looking at all forms of intelligence and monitoring the transport and rail network.
"There is a large police presence in a number of town centres and shopping areas to prevent further disruption or criminality.
"As a precaution, petrol stations have been asked to refuse to sell fuel in cans to anyone suspicious.
"We are also in close contact with community leaders and have been engaging with the retail community to offer advice on measures they can take if they have any concerns about their businesses and staff."
Night of unrest
Kent Police have issued advice to members of the public and businesses.
The force said people should report suspicious activity such as large groups of people gathering, park their cars in well-lit areas or garages, avoid crowds and keep rubbish bins out of sight.
There have been three nights of violence in London since a 29-year-old man was shot dead in Tottenham.
A peaceful protest over the death of Mark Duggan was followed by violence which spread to other parts of the city.
A third night of unrest saw violence spread outside London to Birmingham, Liverpool, Nottingham and Bristol.
Ann Barnes, who chairs Kent Police Authority, urged parents to make sure they knew where their children were following the disturbances in the Medway towns.
She said: "I was horrified by the scenes in London and parents all across the country tonight need to know where their children are and what they are doing."