Tonbridge petition call for rail fare costs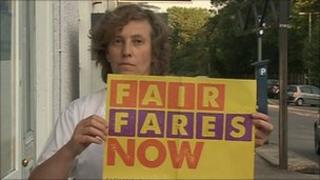 Commuters in Kent have been urged to sign a petition calling for a stop to rising train fares.
The Tonbridge Line Commuters group gathered at the railway station to support the national campaign Fair Fares Now.
They said the cost of a season ticket between Tonbridge and London had risen by 34.6% in the past four years.
Southeastern said the cost of season ticket fares were directly regulated by the government.
'Worse off'
Kathy Pratt, of Tonbridge Line Commuters, said she feared people could be priced out of going to work in London.
She added: "If you want people to continue paying taxes, you've got to let them get to work.
"If you stop them going to work and they lose their job because they can't afford to travel into London and pay their taxes ultimately you are going to be worse off."
Currently Tonbridge commuters pay £3,408 for a season ticket.
Campaigners said they feared that if prices continued to rise in the same way, by 2015 it would cost more than £4,370.
A spokeswoman for Southeastern said: "It's their [the government's] stated policy that passengers should pay more towards the cost of their journey and taxpayers contribute less."
The Fair Fares Now campaign is calling on the government for affordable prices, reliable services and simple ticketing.
Southeastern faced criticism in January when some fares were increased by more than 12%, after travellers had suffered delays, cancellations and amended timetables during two periods of heavy snow in November and December.