Horse Shallimah rescued from sea by crews at Walmer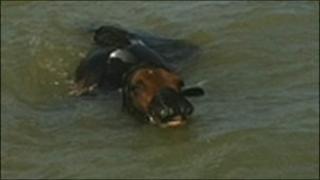 A horse that bolted on a Kent beach and started swimming out to sea had to be rescued by lifeboat crews.
The inshore lifeboat was launched after the horse, called Shallimah, swam half a mile out to sea at Walmer near Deal.
Dover Coastguard said the rider was knocked to the ground when a wave spooked the horse and it bolted, near Sandwich Bay Sailing Club.
The lifeboat crew, RNLI volunteers from Walmer, managed to attach a rope to its bridle and lead it back to shore.
The alarm was raised by Admiral The Lord Boyce, the ex-Chief of the Defence Staff who now chairs the RNLI and was on the beach at the time.
Helmsman Andy Howland said: "A horse is a flight animal so its natural instinct was to swim away from us as we arrived.
"What we tried to do was shepherd it back to shore but after about five minutes the horse decided to come over and say hello.
"At that point we had to make a decision about how we were going to get hold of the horse, steady her, and bring her safely to the shore."