Kent bus routes funding is under threat council says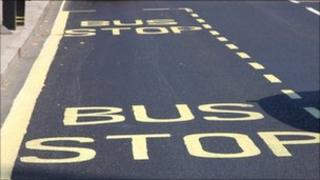 Funding for more than a dozen Kent bus routes is under threat, according to the county council.
The council spends £6m subsidising 220 bus services across Kent which it said do not make any money.
The authority has started a public consultation on the future of 15 of the most expensive routes.
Councillor Bryan Sweetland said: "Unfortunately the message is still the same - use the bus service or lose the bus service."
'Very concerned'
He said: "There will be more pressure on the supported bus budget over the next few years, but many of the services we support could become commercially viable - and therefore need no support from us - if local communities used the bus services more often."
A report by a group of MPs has said funding changes by the government have had an adverse impact on local bus services and the level of bus fares.
The House of Commons Transport Committee's report covered bus services in England, excluding London. It concluded that cuts to rural, evening and weekend bus services were affecting the old, young and disabled.
The report also called on the concessionary bus scheme to be preserved so that the elderly and disabled can continue to enjoy free bus travel.
'Plug a gap'
Committee chairwoman and Labour MP Louise Ellman said: "We are very concerned that many bus services are being reduced and fares are going up, particularly in rural areas.
"This is going to produce great difficulties for people going to work, getting out to social facilities and being able to carry on with a full life."
As well as encouraging local people to use their bus services in order to keep them, Kent County Council (KCC) is also working with communities to see if a local transport solution can be found.
A community transport organisation called Wealden Wheels has already been set up in Pluckley, and six parish councils run three mini buses for the villages of Challock, Charing, Egerton, Pluckley, Smarden and Chilham.
KCC said it hoped more such organisations could be set up to "help plug a community transport gap".