Ifield train spit assault CCTV released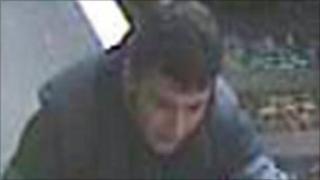 A CCTV image has been released by British Transport Police of a man they want to question after a train conductor was spat at in West Sussex.
The Southern trains employee asked two men and a woman who got on the train at Ifield without tickets to leave.
The conductor was verbally abused, then one man spat at him.
Using a DNA kit carried by train staff, the conductor retained some of the saliva to be sent for analysis following the incident on 10 July.
'Abhorrent crime'
PC Paul Gardner, from British Transport Police, said: "We are following a number of leads to try and get names for this group.
"Although the victim was not physically injured, this degrading and unnecessary assault left him shaken and we are determined to catch the man responsible."
A Southern spokesman said: "This assault on our conductor is an abhorrent crime.
"No-one should have to go about their job fearing assaults such as this."