Norton Knatchbull javelin accident investigation ends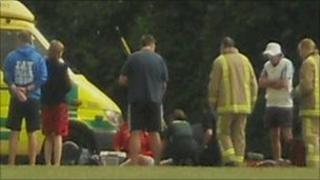 An investigation into an accident at a Kent school in which a teenager was impaled on a javelin has concluded there was no breach of legislation.
The Health and Safety Executive (HSE) said it was no longer pursuing its inquiry into the incident at Norton Knatchbull School in Ashford on 19 May.
Edd Stuckey, 14, was airlifted to hospital in London after he became impaled through his shoulder.
Fire crews cut part of the javelin off at the scene of the incident.
Edd was said to have recovered well after surgery.
A PE teacher who was supervising an athletics session at the school at the time subsequently resigned.
Following the incident, head teacher Susanne Staab said that against established practice, the javelin had been used as a finish marker with the tail end pointing upwards as pupils completed a run.
The wind blew the javelin at an angle and the teenager made contact with the tail end as he completed the run.
The HSE said on Thursday it had found there was no significant breach of health and safety legislation and no further action would be taken.