Jailed football fan Garry Mann criticises extradition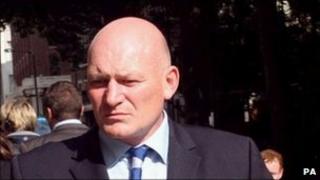 An England football fan who was jailed in Portugal for his role in a riot during Euro 2004 is calling for reform of the European Arrest Warrant system.
Former firefighter Garry Mann was extradited in 2010 to serve his term in Portugal but was moved to the UK this year to finish his jail sentence.
He was released from Wandsworth Prison on Wednesday.
Mann, from Kent, always denied being involved in the fight and claims he did not receive a fair trial in Albufeira.
He said the system did not give him a chance to prove his innocence.
'Convicted within hours'
The Birmingham City fan said: "I just don't believe that this European Arrest Warrant is fair.
"You're not entitled, when you get arrested in England like I did, to give any reasons for your innocence, or any proof of evidence."
The 53-year-old, from Faversham, also said that in Portugal he was never allowed to give evidence and never had a translator in the court.
He said: "If you don't get the court process right, and then you get the arrest warrant when you're back in the country, and you're going 'look I want to prove my innocence'... you're not allowed to.
"How many more people are like me?"
Mann said he had more than 10 witnesses who said he was nowhere near the riot but they were not allowed to testify.
He and the organisation Fair Trials International want British judges to be allowed to overrule European Arrest Warrants.
'Travesty of justice'
Jago Russell, chief executive of Fair Trials International, said: "The European Arrest Warrant has turned this family's life upside down.
"Sadly, until it is reformed and we have better standards of justice in Europe others will suffer the same fate.
"We are delighted that Garry is finally able to return home but he should never have been extradited to Portugal following a trial which can only be described as a travesty of justice."
Mann, from Faversham, was drinking with friends in a bar in Albufeira when a riot involving football fans began in a nearby street.
The father of six was arrested, tried and convicted within 48 hours.
His legal team said he was only granted five minutes with a lawyer before his trial, could not understand the proceedings and did not know what charge he faced until after he was convicted.
Judges and police officers also expressed concerns that he did not get a fair hearing.